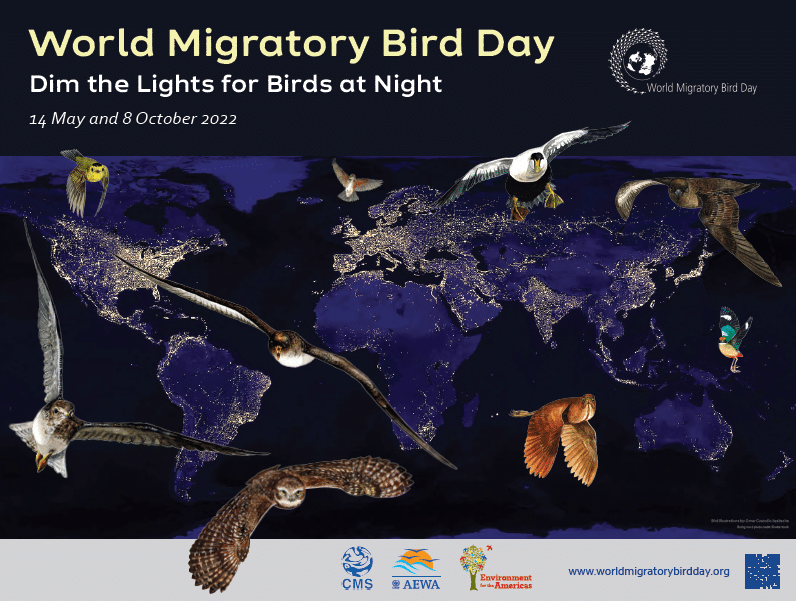 Many of the species that sing to us all summer have winter homes farther south in Central or South America. Some birds pass through, and some settle in for the summer. Whatever their destination, light pollution heavily impacts migrants along their journey. World Migratory Bird Day celebrates the diversity of birds that live among us and is a reminder of our ability to protect these animals with the flick of a switch as they travel extraordinary distances each year. 
On May 14th, we'll host activities at the Frick Environmental Center to engage your larger-than-bird brain and celebrate World Migratory Bird Day with the Allegheny Bird Conservation Alliance, Allegheny Goatscape, Bird Lab, Carnegie Museum of Natural History, Pittsburgh Parks Conservancy, Pittsburgh Park Rangers, Pittsburgh Section of the International Dark Skies Association, and the Western Pennsylvania Conservancy. We will have various activities for learners of all ages, from fledgling to adult, that teach ways to appreciate and help birds in our backyards. 
*To ensure social distancing and safety, registration is required for each activity.*
The early bird sees the birds! Come celebrate World Migratory Bird Day on an early morning escapade at the Frick Environmental Center with Charity Kheshgi, of the Feminist Bird Club of Pittsburgh, and Kate St. John, author of the Outside My Window blog – birdsoutsidemywindow.org.
Drop by the Frick Environmental Center between 8:00A.M. and 12:00P.M. for binocular making, bird scavenger hunts, and bird feeder crafts! No registration required. 
STORY HIKE: WARBLER WAVE
AGES 2-8
Spring is the time that tiny colorful warblers make their way back from their winter migration spots. Join naturalist educators on world migratory bird day for a reading of Warbler Wave by April Pulley Syre and make your own little warbler to take home!
WORLD MIGRATORY BIRD DAY HIKE
Take a hike through the Frick Woods to learn about these tiny travelers and what the Pittsburgh Parks Conservancy, Western Pennsylvania Conservancy, Allegheny Goatscape, the Pittsburgh Section of the International Dark-Sky Association, Bird Lab, and The Carnegie Museum of Natural History are doing to help them along their way. The hike is approximately one mile long and will take roughly 90 minutes. Hikes will begin every 15 minutes - please sign up for one of the following times:
COLLABORATING ORGANIZATIONS
Allegheny Bird Conservation Alliance
Allegheny Goatscape
Bird Lab
Bird Safe Pittsburgh 
Carnegie Museum of Natural History
International Dark-Sky Association
Pittsburgh Parks Conservancy
Pittsburgh Park Rangers
Powdermill Avian Research Center
Western Pennsylvania Conservancy