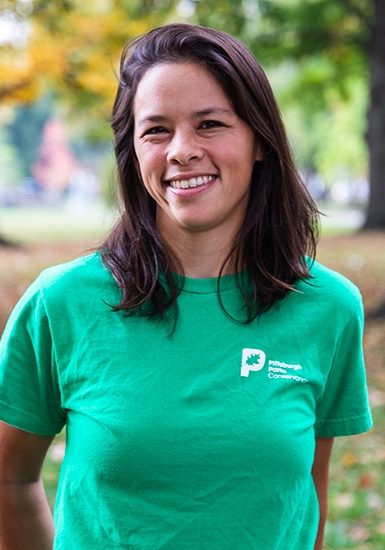 Robin was born and raised in the Pittsburgh area, and has always felt at home in the forests of Western Pennsylvania. She attended college at the University of Pittsburgh, where she double-majored in Ecology & Evolution and Philosophy. Her undergraduate studies were focused  on forest ecology, and the drivers of forest degradation and regeneration in eastern deciduous forests.  After college, Robin spent nearly 3 years monitoring carnivore populations for the US Forest Service in the mountains of California before moving to South Carolina to obtain a Master's degree in Wildlife Biology and Conservation at Clemson University.  Her work in both forest ecology and wildlife biology gave her a firm understanding of many processes and elements that comprise a healthy ecosystem, from the plants and animals to the fungi and bacteria (and the conditions they create).
Equipped with a strong scientific background, Robin turned her focus to understanding and improving human-dominated ecosystems. A classic example of the Pittsburgh "gumband effect," Robin returned to Pittsburgh in 2018 with the intent of applying her skills and education to the restoration of Pittsburgh's urban and suburban ecosystems. She joined the Pittsburgh Parks Conservancy in 2019 as a Restoration Gardener where she learned about the many unique challenges facing our urban forests, such as unmanaged deer populations, invasive plants and earthworms, and a variety of tree diseases and pathogens. She recently moved into a role as the Ecological Project Manager, and is excited to continue working with the PPC and its many fantastic partners to better understand and ultimately restore Pittsburgh's urban ecosystems through a combination of applied scientific knowledge, adaptive habitat management, and monitoring efforts.
Aside from her career passions as an ecologist, Robin likes playing disc sports (ultimate frisbee, and more recently disc golf), hiking, and identifying all of the species she encounters along the way. She hoards hollow logs to use as perennial planters, takes too many pictures of mushrooms, likes to cook with local and invasive species, and find live jazz to attend throughout the city (101.1 WZUM makes it easy). She has 2 cats that are "trained" to be leash cats (predatory little furballs) and a black squirrel that lives in her back yard (not prey yet).