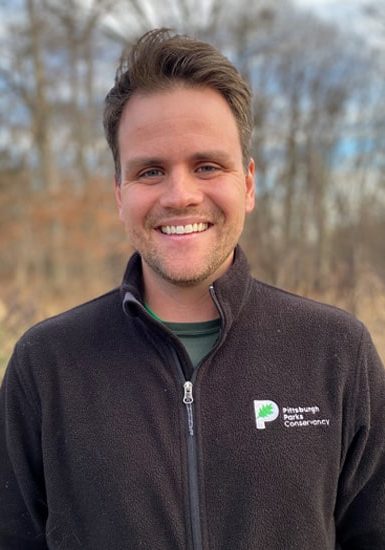 Brandon was first introduced to the Parks Conservancy as a college intern with the Horticulture and Forestry team. He spent that fun-filled summer removing invasive plants, tending to public gardens, and leading volunteers in caring for the parks. This formative experience helped cure his "plant blindness" and ignited a renewed passion for understanding the natural world. He went on to graduate from the University of Pittsburgh with a degree in Environmental Studies.
Brandon continued with the Conservancy part-time at the PNC Carousel at Schenley Plaza and behind the front desk of the Frick Environmental Center until 2018, when he moved to eastern Pennsylvania. Roles as a Park Ranger and Environmental Educator helped him continue to grow and learn in new directions, but an urge to restore natural areas and get his hands dirty never fully subsided! Now returning to work alongside some of the same staff who showed him the ropes as an intern, Brandon is looking forward to fully immersing himself in the restoration and maintenance of Pittsburgh's parks as the Senior Manager of Ecological Restoration. Outside of work, Brandon finds joy in soccer, birding, biking, and iNatting (
https://www.inaturalist.org/
).