1. Find your nearest Pittsburgh park
Search for parks by zipcode or narrow your search by using the filters.
2. Plan Your Park Trip
There's something for everyone in the parks! Here are some ways to play in the parks:
3. Get Outside!
Now, go out and play!
If possible, walk, bike, or bus to your park, and bring plenty of water. And most importantly, have fun!
For ideas about planning a safe, enjoyable park visit, check out these resources:
Plus, the Pittsburgh Parks Conservancy invites you to take part in our many free, family-friendly programs, such as Kids' Day at Schenley Plaza, play dates and story hikes at the Frick Environmental Center, all-ages volunteer events, and much more.
Become a Park Prescriber!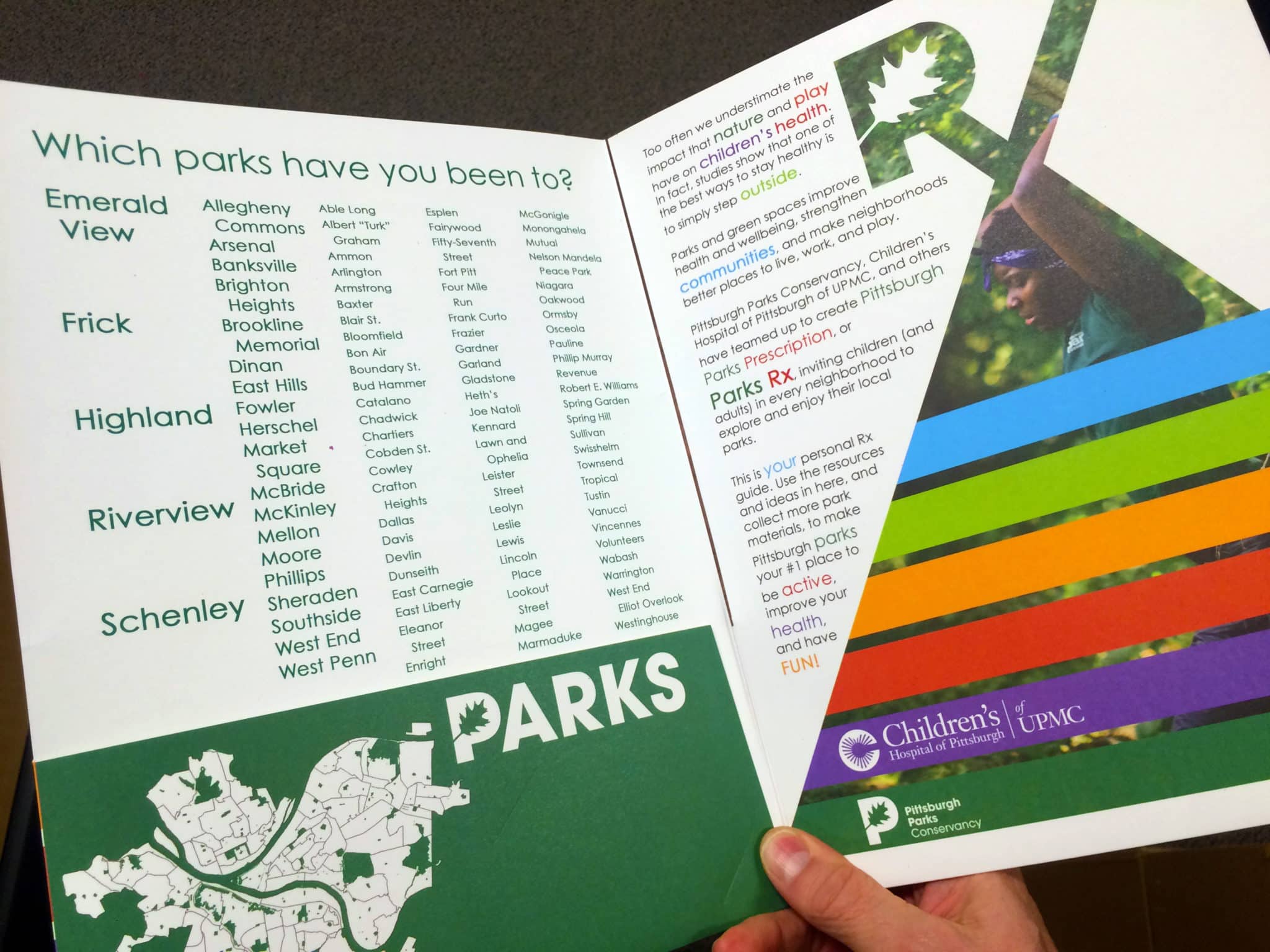 Through Pittsburgh Parks Rx, park prescribers (like you!) provide children and families with information, resources, and inspiration to get active outdoors and connect with nature.
To help you make the most of park and outdoor time with young learners, the Pittsburgh Parks Conservancy has created the Parks Prescriber Toolkit for Schools and Out-of-School Time. This toolkit is a guide for care providers and educators working in schools, afterschool settings, daycare centers, family support centers, and others who are interested in presenting Parks Rx.
The Parks Prescriber Toolkit emphasizes the benefits of physical activity and parks, and offers kid-friendly activities that can be taken advantage of both in and out of school. We encourage you to adapt and tailor the activities to your specific needs, whether the setting is a nearby park or greenspace, schoolyard, or even indoors.
---
TESTIMONIALS
"Parks Rx helps the families I work with by giving them ideas of how to use the parks and where to go." -  Family support center staff member 
"Spending time outdoors in the park helped me and my children to explore nature, build friendships, and build community." -  Pittsburgh Parks Rx participant, Greater Hazelwood Family Center 
Pittsburgh Parks Rx In the Clinic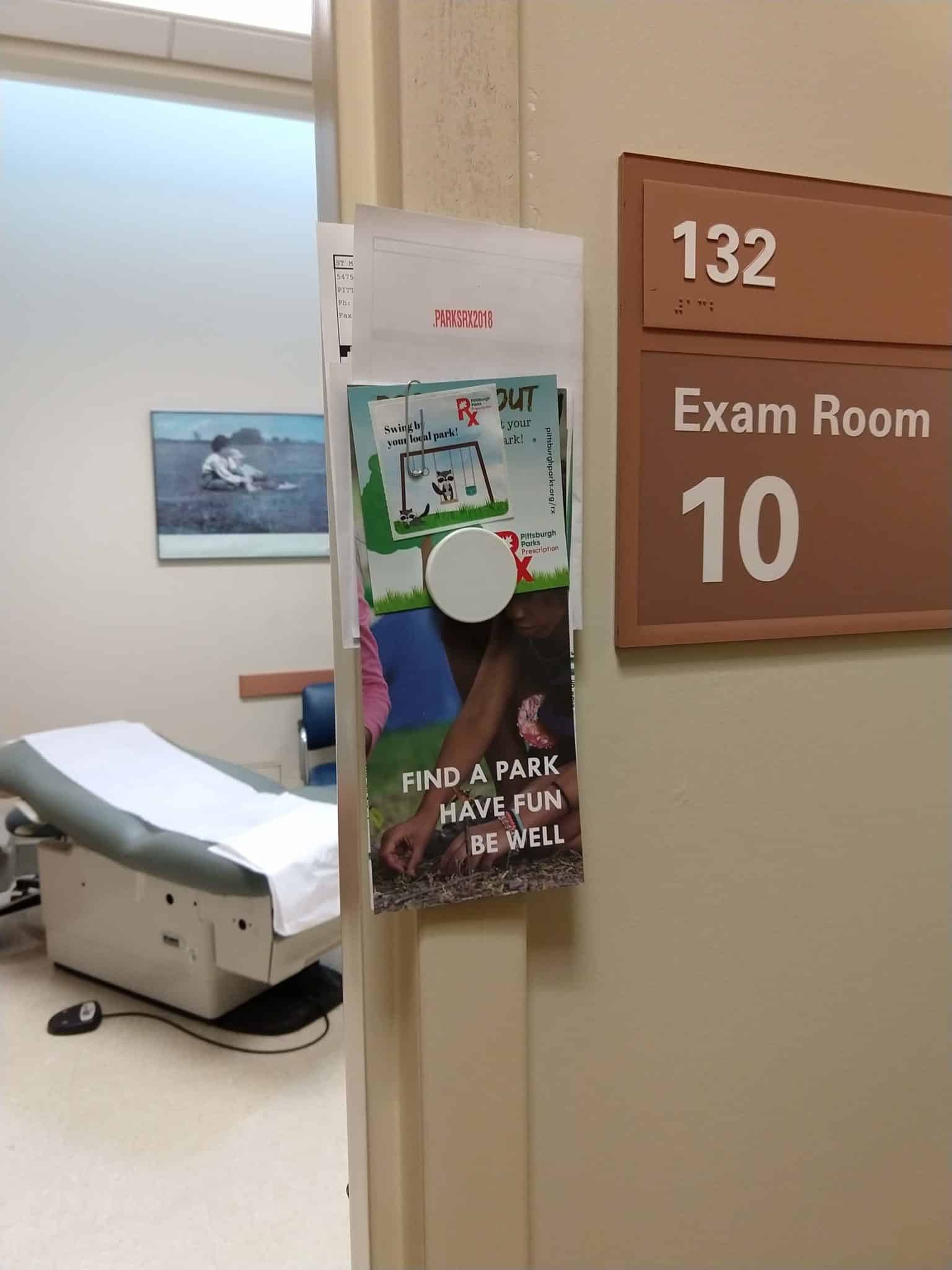 The Pittsburgh Parks Conservancy and UPMC Children's Hospital of Pittsburgh and other area partners have teamed up to develop the Pittsburgh Parks Prescription (Parks Rx), a program designed to support the health and well-being of children through regular park use and contact with nature.  
In 2017, a clinical advisory team of physicians and public health professionals worked to finalize the systems through which a doctor can prescribe park use to a patient through Pittsburgh Parks Rx.  This was piloted in several primary care practices from 2018-2020. Learn more here about the pilot. 
In 2021, PPC formed a partnership with Park Rx America to begin offering a digital prescribing tool for Pittsburgh-area providers.  For more information about using the platform, visit www.parkrxamerica.org
Special thanks to our current clinical partners:
Allegheny County Health Department WIC Program • Children's Community Pediatrics-GIL • Duquesne University School of Pharmacy • General Academic Pediatrics-Children's Primary Care Center • Hilltop Health Hub • Kids Plus Pediatrics • Pediatric Alliance Allegheny (AHN Pediatrics) • Pediatric Alliance Bloomfield (AHN Pediatrics) • Ronald McDonald Care Mobile • UPMC St. Margaret Bloomfield-Garfield Family Health Center
For more information about how you can get involved with Pittsburgh Parks Rx, please contact rx@pittsburghparks.org 
Why Parks Rx?
Regular physical activity, regardless of age, is one of the most important lifestyle behaviors for maintaining a healthy weight and promoting quality of life. In addition, numerous studies show that being physically active in the outdoors and in connection with natural spaces provides added physical and mental health benefits. However, children only spend about one percent of their free time outdoors. Park prescription programs have been introduced as a preventative health practice in many states and cities around the country to help address this concern. Pittsburgh Parks Rx aims to provide a local framework for healthcare professionals to encourage kids to get outside, be active, and connect with nature. 
For more information about park prescription programs nationally, visit parkrx.org 
---
PITTSBURGH PARKS RX CLINICAL RESOURCES
---
REFLECTIONS FROM PHYSICIANS PRESCRIBING PARKS
"Park prescriptions fit in perfectly when I talk with families about the importance of physical activity and reduced screen time." 
"Some of my patients didn't realize how many parks there are in the city and were happy to receive the pamphlet and information."  
Too often we underestimate the impact that nature and play have on children's health. In fact, studies show that one of the best ways to stay healthy is to simply step outside. Parks and green spaces improve health and well being, strengthen communities, and make neighborhoods better places to live, work, and play. The Pittsburgh Parks Conservancy joins regional partners in Pittsburgh Parks Prescription, or Parks Rx, inviting children (and adults) in every neighborhood to explore and enjoy their local parks.
The Pittsburgh Parks Conservancy and UPMC Children's Hospital of Pittsburgh have collaborated with these area partners through Pittsburgh Parks Rx: