Now that the weather is getting warmer, you might be itching to get outside to the parks.  While winter is a beautiful time to be out in the parks, the spring brings about a magnetizing force that draws us out to nature. Whether you are listening to the melodious chirping of the birds, studying the intricate buds on the trees, or admiring the vibrant spring flowers, spring brings the ability to foster our connection to nature in many new ways.   
One way to foster your connection to nature is by learning how to identify different trees.  Identifying trees is a great way to educate yourself about the surrounding ecosystem. It can also be an entertaining way of learning more about nature because it often feels like solving a puzzle.  In the next few segments, I will include pictures that can help you identify some of the different oak trees that can be found in Pittsburgh.   
The first tree we will identify today is the White Oak.  The White Oak's scientific name is Quercus alba and it can grow to be more than 80 feet tall. The bark is a light gray color and resembles rectangular scales or nuggets.  While the bark is distinct, perhaps the best identifying factor of the White Oak is its leaves. White Oak leaves are arranged alternatively on the twigs of the tree, meaning there is a single leaf at each node, and the leaves alternate sides as they move up the twig. White Oak leaves have 7-9 rounded lobes. One way to remember White Oak leaves are rounded is to think about clouds: white and round.  The last identifying factor of a White Oak Tree is… acorns! You can identify an acorn by its cap. A White Oak acorn cap is likely to be a grayish color and bowl-shaped, as you can see in the image below.  Animals love to eat White Oak acorns, so consider yourself lucky if you ever come across one out in nature!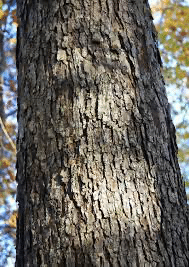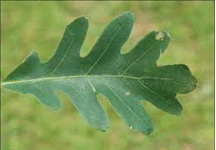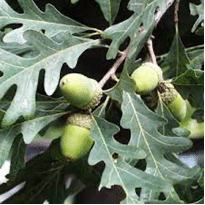 The next tree we will identify is the Northern Red Oak. The Red Oak's scientific name is Quercus rubra and it can grow up to 75 feet tall. The bark can be dark brown or reddish-gray and has longer strips as opposed to the nugget-like bark of the White Oak.  Red Oak leaves are arranged in an alternating pattern on the twig and can be fairly large, up to 9 inches long. They generally have between 7 and 11 pointed lobes. The easiest way to distinguish a Red Oak from a White Oak is by looking at its leaves. Unlike the White Oak's rounded lobes,  Red Oak's have pointed leaves that resemble fire;  Think fire, red, Red Oak.  The acorns of a Red Oak are also different. Red Oak acorns have a flatter saucer-like cap and appear to be more reddish-brown in color. Another way to identify an acorn you find is to use context clues. Unsure of the acorn you found, but you see lots of pointy, 7-11 lobed leaves around you? That acorn is likely to be from a Red Oak.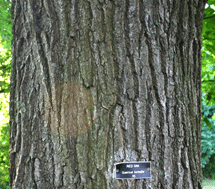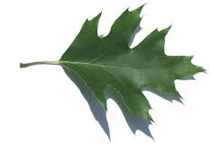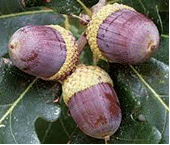 Tip: What happens if the tree is too tall where we can't see its leaves? Check the ground! Chances are if you cannot confidently identify a tree based on the bark alone, look at the leaves or acorns near the base of the tree.  
Now that you know how to distinguish a White Oak from a Red Oak, head out to the parks to test your identification skills!   
Caitlin Steve - Pittsburgh Parks Conservancy Intern