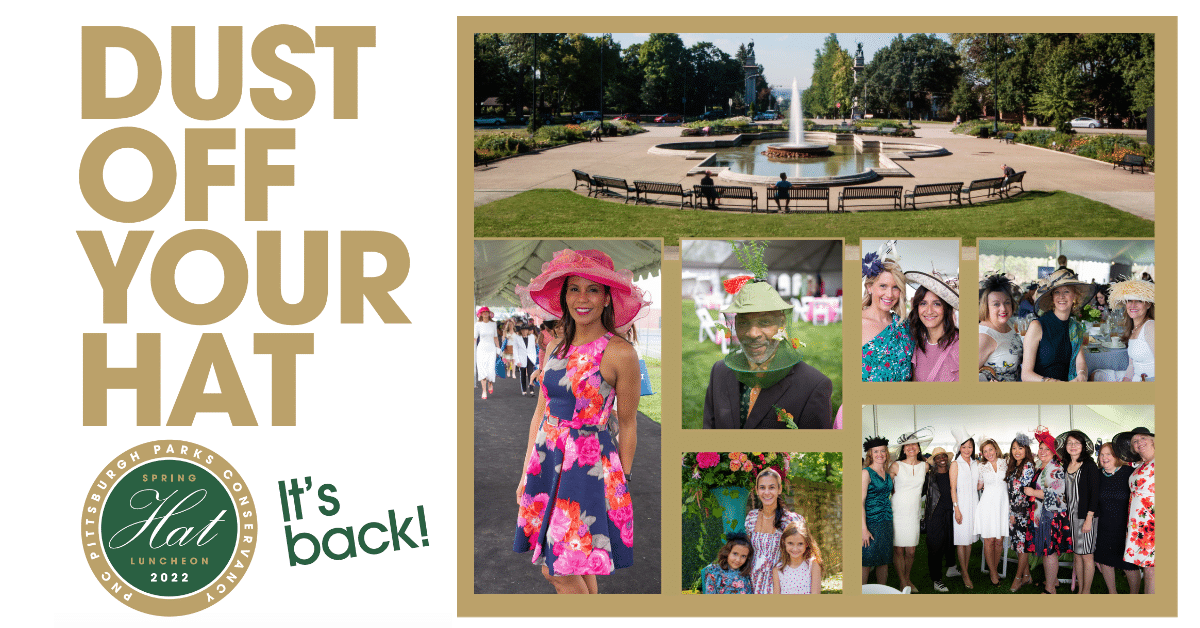 HIGHLAND PARK
SATURDAY, MAY 7, 2022
The Pittsburgh Parks Conservancy is thrilled to announce the return of a spring tradition: The 2022 PNC Pittsburgh Parks Conservancy Spring Hat Luncheon!
The PNC Pittsburgh Parks Conservancy Spring Hat Luncheon is the hallmark social event of the season. Founded in 1999, the Spring Hat Luncheon immediately made a colorful splash on the social scene. The effect can be felt near and far, with growing attendance, media coverage, and sponsorships providing vital funds of direct support for Pittsburgh's cherished park system.
As the Parks Conservancy's most critical fundraising event, the Luncheon's success sets the stage for projects that can be completed in Pittsburgh's regional, community, and neighborhood parks on behalf of the Conservancy.
This tremendous event welcomes more than 600 guests annually. At the same time, proceeds generated from the Hat Luncheon are used wherever they benefit the parks system most, from capital projects to underwriting general operating support for the Parks Conservancy.
Vivian Benter • Melanie Crockard • Diane P. Holder • Sloan Overstrom • Latasha Wilson-Batch
Ritchie Battle • Audrey Hillman Fisher
SPONSORSHIP OPPORTUNITIES
Interested in becoming a 2022 PNC Pittsburgh Parks Conservancy Spring Hat Luncheon sponsor? 
Click here for information about sponsorship benefits!
Ready to support the annual Spring Hat Luncheon? Click here to complete the sponsorship commitment form!
Please contact Sophie Gage at sgage@pittsburghparks.org or 412-682-7275 with any questions.
THANK YOU TO OUR SPONSORS
FOR MAKING THIS SPRING TRADITION POSSIBLE
PRESENTING
---
DIAMOND
Pittsburghers need parks. They're where families create lasting memories together, where people of all ages connect to nature, and where all of us can simply enjoy a breath of fresh air. Parks, in return, do more than we realize. They clean the air, filter stormwater, lower stress, and provide a natural sanctuary. 
We believe in the power of parks. We are all in. Are you?