PROJECT UPDATE: FRICK ENVIRONMENTAL CENTER WASTEWATER UPGRADES
The Frick Environmental Center's wastewater system will undergo upgrades to increase system capacity and retention time. Temporary trail detours may be in place through the end of November 2023.
SCHEDULE:
Construction Starts: On or after September 18, 2023

Construction Complete: November 30, 2023
A project of the Pittsburgh Parks Conservancy and the City of Pittsburgh, the Frick Environmental Center is a certified Living Building that has achieved Leadership in Energy and Environmental Design (LEED) Platinum.
The Frick Environmental Center provides families, students, and learners of all ages with a state-of-the-art space for hands-on, experiential environmental education. The Center serves as the classroom base for programming that extends into the surrounding park woodlands, streams, meadows and trails.
The Frick Environmental Center is a welcome facility, education hub, and gateway to Frick Park. Free and open to all, this cutting-edge facility enhances the visitor experience and inspires learners to discover one of Pittsburgh's largest parks. Classrooms and meeting spaces in the Frick Environmental Center are fully accessible, including gender-neutral family restrooms on all 3 levels in the building as well as outdoors. For questions about accessibility, please contact James Brown, Director of Education and the Frick Environmental Center(jbrown@pittsburghparks.org or 412-586-4576 x101).
Click here to learn more about how this living building operates on a daily basis! 
Did you know you can recycle batteries at the Frick Environmental Center? Click here to learn more!
LIVING BUILDING PETALS
The Frick Environmental Center is a certified Living Building, a prestigious designation awarded to just over a dozen buildings in the world. To achieve this, the Center follows seven categories, or 'petals', throughout its design and concept.
ENERGY
The new Center runs entirely off of energy provided by the sun and the earth. Designed to use 40% less energy than a building its size in our region, the Center is completely net zero thanks to energy produced on-site through solar panels and hot and cold air gathered from geothermal wells.
MATERIALS
Every material used in the new Center was intentional, having first undergone an extensive vetting process. All materials were sourced from responsible industries, many recycled or locally produced. Elements like black locust siding and interior furnishings made from locally salvaged wood are a nod to native tree species.
BEAUTY
Certain aspects of the new Center have been incorporated simply for the delight and curiosity of park visitors. Area artists created unique wrought iron gates and features; rotating student art graces the Center's hallway; and inspirational plaques line the balcony overlooking the park. 
HEALTH
A gateway to Frick Park, the Center is a starting point for visitor hikes, as well as our many education programs and events. Natural light and ventilation, local building materials, and active elements like stairs and window openings are just a few ways that the Center is designed for visitor and park health.
SITE
Built on the same footprint as the original Center, the new building is a gateway to the park. In addition to operating the Center, the Parks Conservancy works to maintain and enhance the surrounding 115 acres of the Frick Nature Reserve.
WATER
Water brings the Center to life, cascading down an outdoor art ravine on rainy days and used throughout the Center after being captured by cisterns and barrels via the Center's roof and solar panels. Rain water is used in the building and in the landscape; on-site treatment safely disposes of waste water.
EQUITY
The first Living Building intended to be free and open to all, the Center is a public welcome facility. Built to be human scale, fully accessible classrooms, restrooms, and meeting spaces are open for visitors to learn about the natural world. The building itself enhances the surrounding public parkland.
Lodestar Award, For Inspirational Solar Leadership, Presented by the Pennsylvania Solar Center to Pittsburgh Parks Conservancy, 2023
AIA COTE Top Ten Plus Award, 2019
AIA Committee on Education in Architecture Award of Excellence, 2017
Green Building Alliance Inaugural Leadership Award to Frick Environmental Center, 2017
Placemaking Award Winner, Jury Award, presented by Urban Land Institute Pittsburgh, Frick Environmental Center, 2017
Regional Excellence in Wood Design, presented by Woodworks Wood Products Council, Frick Environmental Center, 2017
Sustainable Project of the Year, presented by Engineers Society of Western PA, Frick Environmental Center, 2017
AIA QUAD 2017 Design Awards Honor Award, presented by AIA Quad, Frick Environmental Center, 2017
AIA Pittsburgh Honor Award in Architecture, presented by AIA Pittsburgh, Frick Environmental Center, 2017
2017 Excellence in Concrete Construction, 2nd Place Low Rise Buildings Category, presented by The American Concrete Institute, Frick Environmental Center, 2017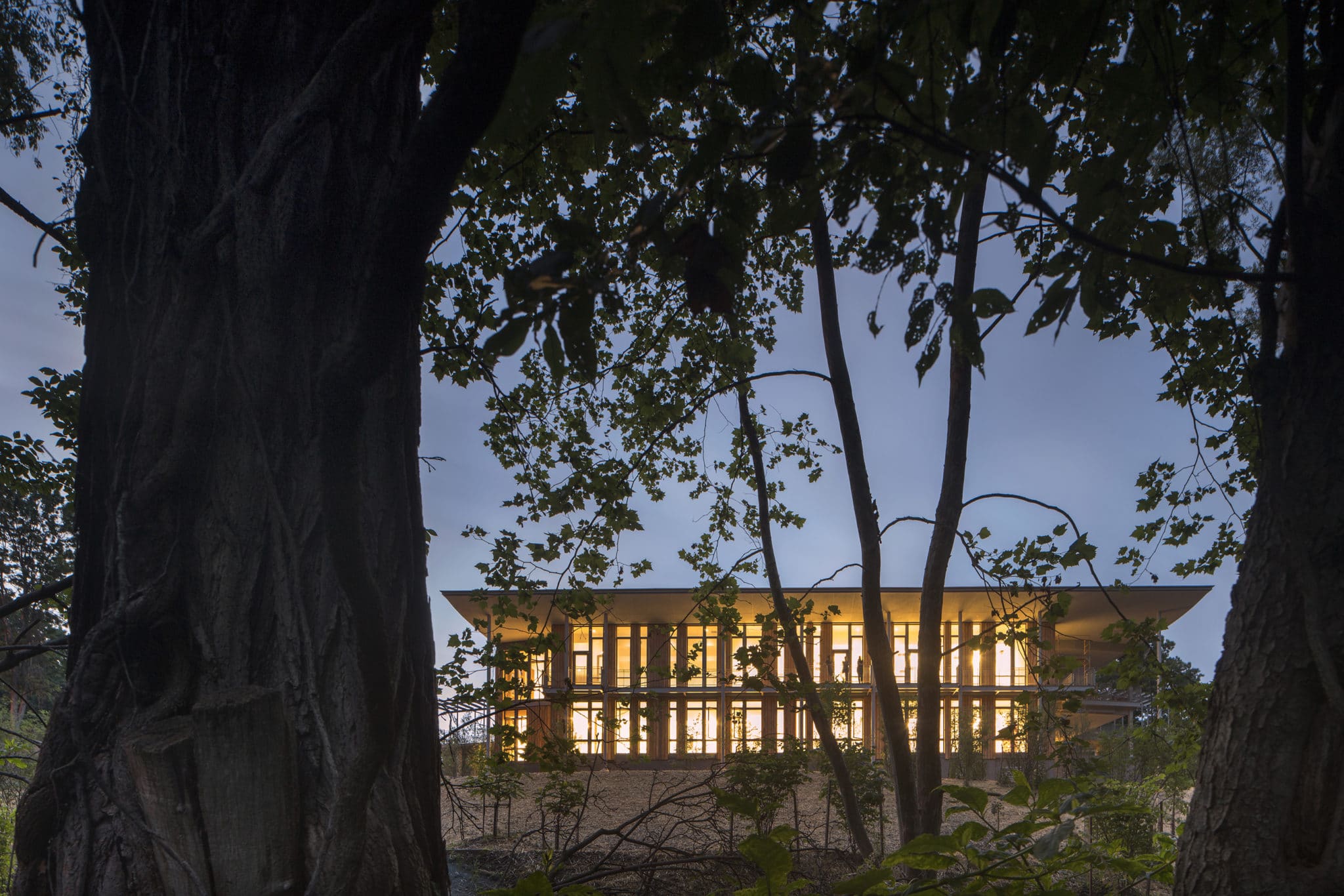 Hours and Contact Information
The Frick Environmental Center main building is open on Monday through Sunday from 10:00 A.M. - 4:00 P.M. 
Frick Park is open during park hours 6:00 A.M. to 11:00 P.M.
2005 Beechwood Boulevard, Pittsburgh, PA 15217
412-586-4576
Interested in holding an event at the Frick Environmental Center?
Tell us about yourself and your event. Events submitted through this form are not yet confirmed. Click here to submit the informational form and someone from the Parks Conservancy will get in touch about your inquiry.