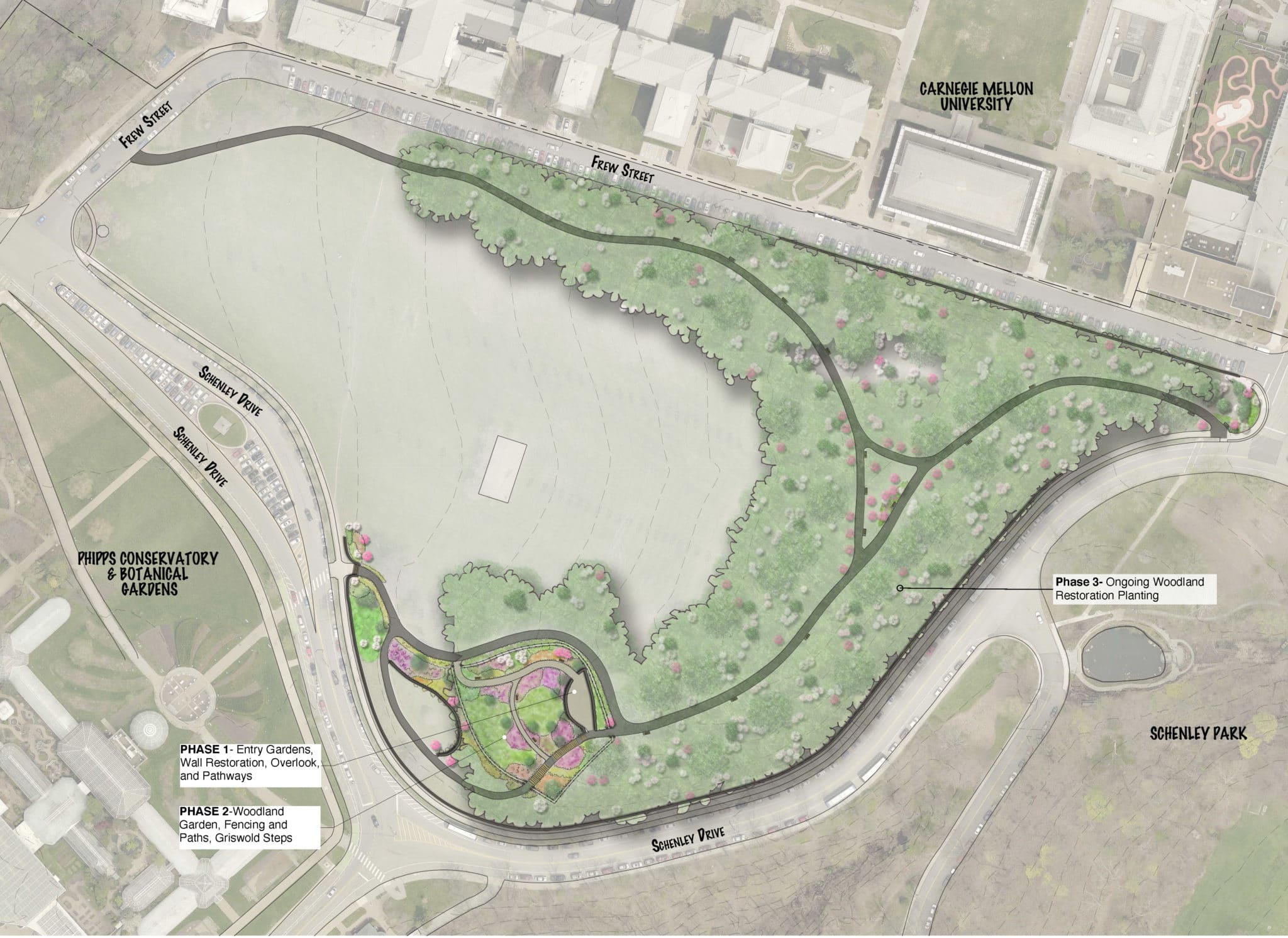 FLAGSTAFF HILL WOODLAND GARDEN OVERVIEW
The overall goal is to preserve the site's historic integrity, improve its ecological health, and increase its use.   
Flagstaff Hill is not only an iconic Pittsburgh destination that people of all ages enjoy year-round, but it's also the site of the Pittsburgh Parks Conservancy's most recent capital improvement project. This popular landmark, directly opposite Phipps Conservatory and Botanical Gardens, attracts thousands of visitors annually who enjoy its panoramic views of the Oakland neighborhood and city skyline. The Flagstaff Hill Woodland Garden project will begin in March 2022. 
EHANCING PITTSBURGH'S GREENSPACE
The first step of the project is restoring the historic hand-hewn stone entry steps, retaining walls, and the overlooking terrace. Following the restoration of the historic masonry walls and stairs, the project will also address pedestrian barriers by reconstructing the dilapidated main path connecting the east and west entrances, where the Conservancy will soon create new gardens.    
The new entry gardens will frame the east and west park entrances using a sustainable native plant palette. In addition, bioswales and green infrastructure, and a reduction in impervious paving will help handle stormwater runoff and mitigate erosion issues that have plagued the site. 
The project also includes the installation of new park benches along the connecting pathways, so visitors can enjoy a moment of relaxation as they enjoy the stunning views from Flagstaff Hill. Additionally, the restored overlook terrace will be repaved with permeable pavers to improve its use as a space for individuals and small groups.   
Future phases of the project will include a reinterpretation of the 1930's era azalea garden that used to occupy the hillside. A new 'woodland garden' will be planted using native plant species, bringing back the essence of the historic landscape with ecological sensitivity. In addition, Conservancy will continue to implement an ecological restoration planting program, ensuring the environmental health of one of Schenley Park's oldest tree stands for generations to come.