Every year, Pittsburgh Parks Conservancy educators teach thousands of learners in our city's biggest classrooms - your parks.
Working alongside partners in public and private schools, our educators engage students through thoughtful curriculum in the parks. Parks Conservancy education programs not only help students gain a better understanding of the natural world, they encourage students to take part in stewardship activities that actively improve their parks. Parks Conservancy school programs are tied to state standards in life sciences, environmental science, civics, and language arts.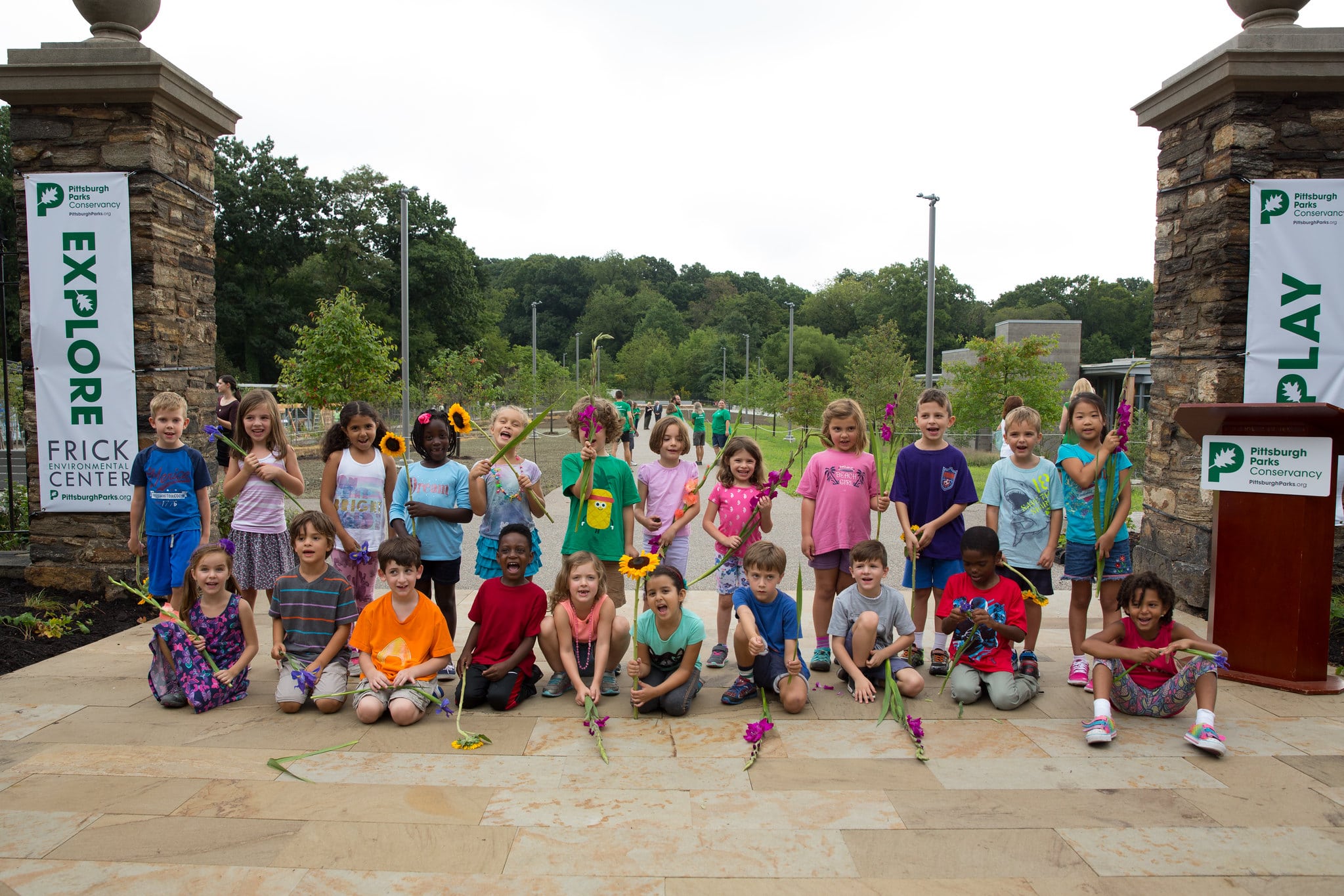 OUR EDUCATORS
Pittsburgh Parks Conservancy educators bring a wealth of backgrounds and experience to their teaching. Our dedicated team keeps up with best practices in environmental education, as well as obtaining all necessary clearances and first aid certification. We maintain low instructor-to-student ratios to provide the best outdoor learning experience for all learners.
ENROLLMENT PROCESS
With dedicated time, learners develop a deeper connection with nature. That's why our school programs involve multiple points of contact and enroll classes on a school year basis. Field trips are fantastic, but we don't accommodate classes on one-day trips. Schools can enroll classes in our programs in spring for the following school year. Participating teachers commit to completing all program activities (usually 3 seasonal visits) with their students.
In Nature School, children discover local nature and experience the outdoors at their pre-school through hands-onexploration.  Nature School is a one-hour, once-a-week program that runs for five weeks, with an optional culminating visit to Frick Environmental Center. Students touch, interact and play with dirt, leaves, sticks and seeds to learn about the world around them. Lessons that include songs, stories, walks and snacks teach respect and excitement for the outdoors. 
Grade 1
Habitat Explorers
The Habitat Explorers program introduces students to plant and animal communities. Students visit Frick Park three times throughout the school year to learn what makes meadow, woodland, and stream habitats unique. Through guided and independent exploration activities, students observe the organisms that live in these three unique habitats, and then get the opportunity to improve each habitat through group stewardship projects. Through these experiences, they observe first-hand the necessary elements habitats provide the organisms that live there.
---
GOALS:
Introduce students to outdoor scientific inquiry
Lead young minds to explore and discover the outdoors
Encourage respect and care of nature through stewardship
EXPERIENCE:
Observe habitats, communities, and seasons in the park
Explore and learn about meadows, woodlands, and streams
Take part in stewardship projects, such as making seed bombs and bird feeders
Grades 4 - 5
Park Explorers
The Park Explorers program engages students in comprehensive exploration of specific habitats in Frick Park. Three sessions of guided, hands-on inquiry and nature journaling help students gain a deeper understanding of how the changing seasons affect the plants and animals that call Frick Park home.
---
GOALS:
Introduce students to scientific inquiry
Sharpen observational skills
Introduce nature journaling techniques
EXPERIENCE:
Visit the park in all weather and seasons
Observe seasonal change and biodiversity in the park
Use journaling (writing, drawing, personal reflection) to document and connect with nature
Grades 7 - 8
Ecosystem Investigators
In Ecosystem Investigators, students study forest and stream ecosystems and the services they provide. They employ tools and sampling methods used by scientists in the field, collecting data to gain a deeper understanding of healthy ecosystems, their benefits, and how humans impact ecosystems both positively and negatively.
---
GOALS:
Challenge students to evaluate ecosystem health and services
Teach students about data collection and methods
Encourage critical thinking and science skills
EXPERIENCE:
Visit the park in all weather and seasons
Gather and interpret field data
Identify native and non-native plants and animals
Learn about the value of parks and green spaces
Grades 9 - 12
High School Urban EcoStewards
High School Urban EcoStewards are groups or classes of students who visit Frick Park three times throughout the year to perform stewardship activities and engage in active outdoor learning. Topics covered include biodiversity, adaptation, sustainability, and the importance of stewardship in our parks.
---
GOALS:
Challenge students to get outdoors and engage in hands-on stewardship that connects to their science class content
Help students recognize and connect with nature in the city
Improve watershed health and biodiversity within the parks
EXPERIENCE:
Visit the park in all weather and seasons
Work in teams to perform hands-on ecological restoration projects
Plant trees, remove invasive species and control erosion
Learn about ecology and environmental science
Learn about the value of parks and green space
The Parks Conservancy also offers a paid internship program for high school students. Learn more about our
Young Naturalist Program
.
Interested in learning more about our school programs?
Complete the following form and we'll be in touch!
To speak with someone about special accommodation needs for Parks Conservancy events, please contact us at (412) 586-4576. Please note that we will do our best to provide accommodations; minimum of one-week notice needed for special accommodation considerations.
MAKE A DIFFERENCE
SUPPORT YOUNG MINDS
Have a hand in supporting young minds by making a tax-deductible gift to environmental education through the Colker Fund today.
Looking for a other ways to support us? Ask your employer if your organization participates in the Education Improvement Tax Credit (EITC) program and encourage them to support the Pittsburgh Parks Conservancy!