Celebrating how all abilities interact with nature in Pittsburgh's Parks
Celebrating how all abilities interact with nature in Pittsburgh's Parks  
Did you know that July 26 is National Disability Independence Day? We are thrilled to celebrate this special day at the Pittsburgh Parks Conservancy. We couldn't be more excited to honor individuals of all abilities as we further our dedication to providing equal access to the wonders of nature for everyone. 
As part of our ongoing efforts to ensure every individual has access to the outdoors, we are proud to continue this vital work through a new one-of-a-kind Outdoor Sensory Classroom and Nature Play Trail project at the Frick Environmental Center. This incredible project aims to create a space where individuals of all abilities can fully appreciate nature and immerse themselves in the natural environment, free from any barriers. The Outdoor Sensory Classroom will serve as a sanctuary where everyone can connect with the park's beauty, fostering a sense of joy, peace, and exploration.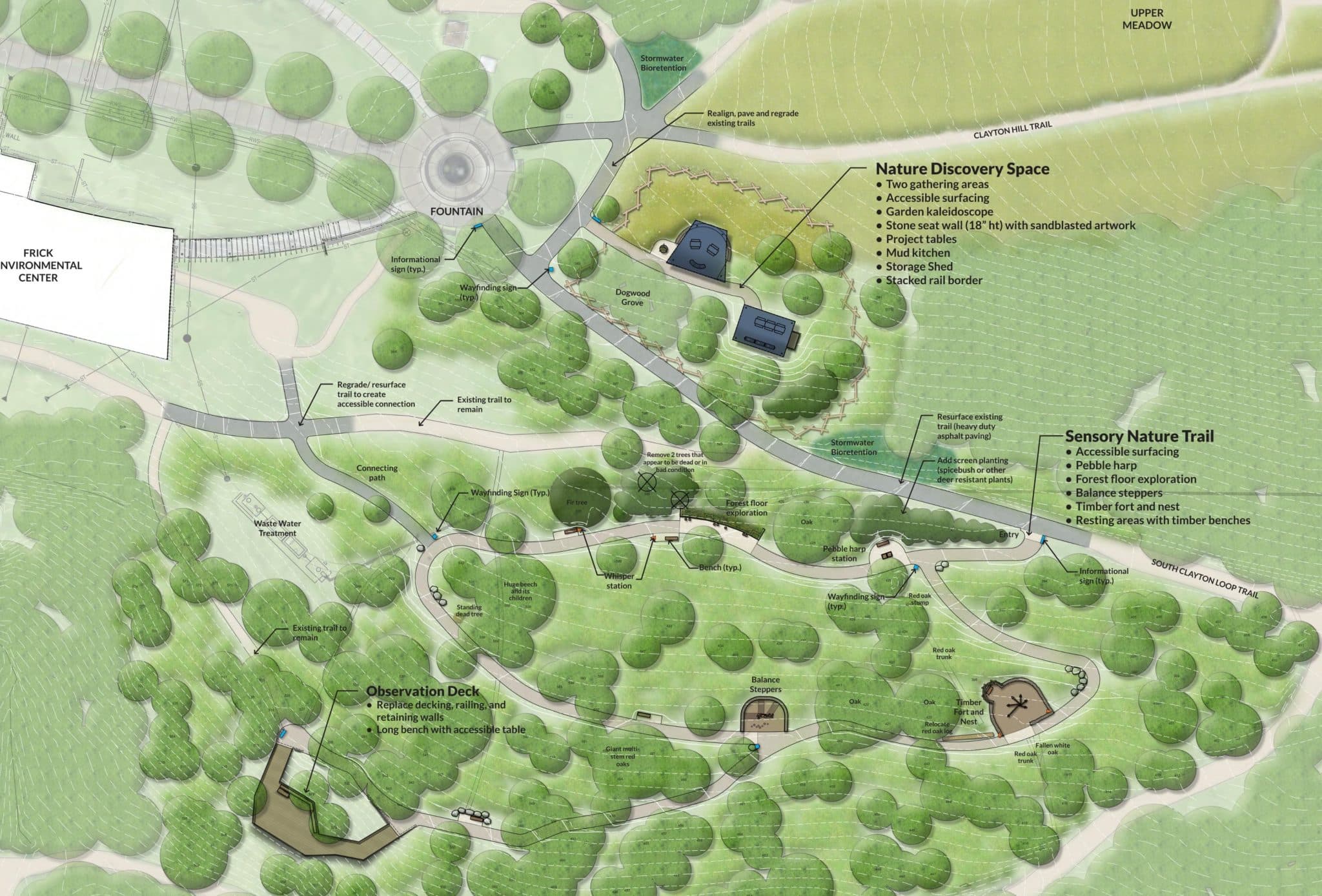 Community input in action 
Throughout the last year, the Parks Conservancy has led a meaningful, inclusive, and accessible community engagement process to solicit feedback from hundreds of individuals with disabilities, caregivers, teachers, and dozens of Pittsburgh-based organizations serving children with disabilities on the design of a welcoming and accessible trail and outdoor classroom space. 
The feedback collected during the community engagement process has been synthesized and incorporated into the design of an Outdoor Sensory Classroom and Nature Play Trail, which will become a first-of-its kind space in a public park in Pittsburgh. Encompassing 3 acres immediately adjacent to the Frick Environmental Center, the site will feature: 
A wheelchair-accessible 1/3 mile nature trail

 

Hands-on discovery stations for sensory and tactile experiences that encourage nature-based learning

 
Covered shelters, including ADA-accessible picnic benches to ensure everyone has a space to rest and reflect 

 

The reconstruction of a wheelchair-accessible observation deck 

 
The proposed gathering spaces, sensory learning elements, and observation deck and railings are all designed to meet Americans with Disabilities Act (ADA) regulations and statutes related to the International Building Code. The proposed trail resurfacing included within the project is designed to meet the federal United States Forest Service Trail Accessibility Guidelines.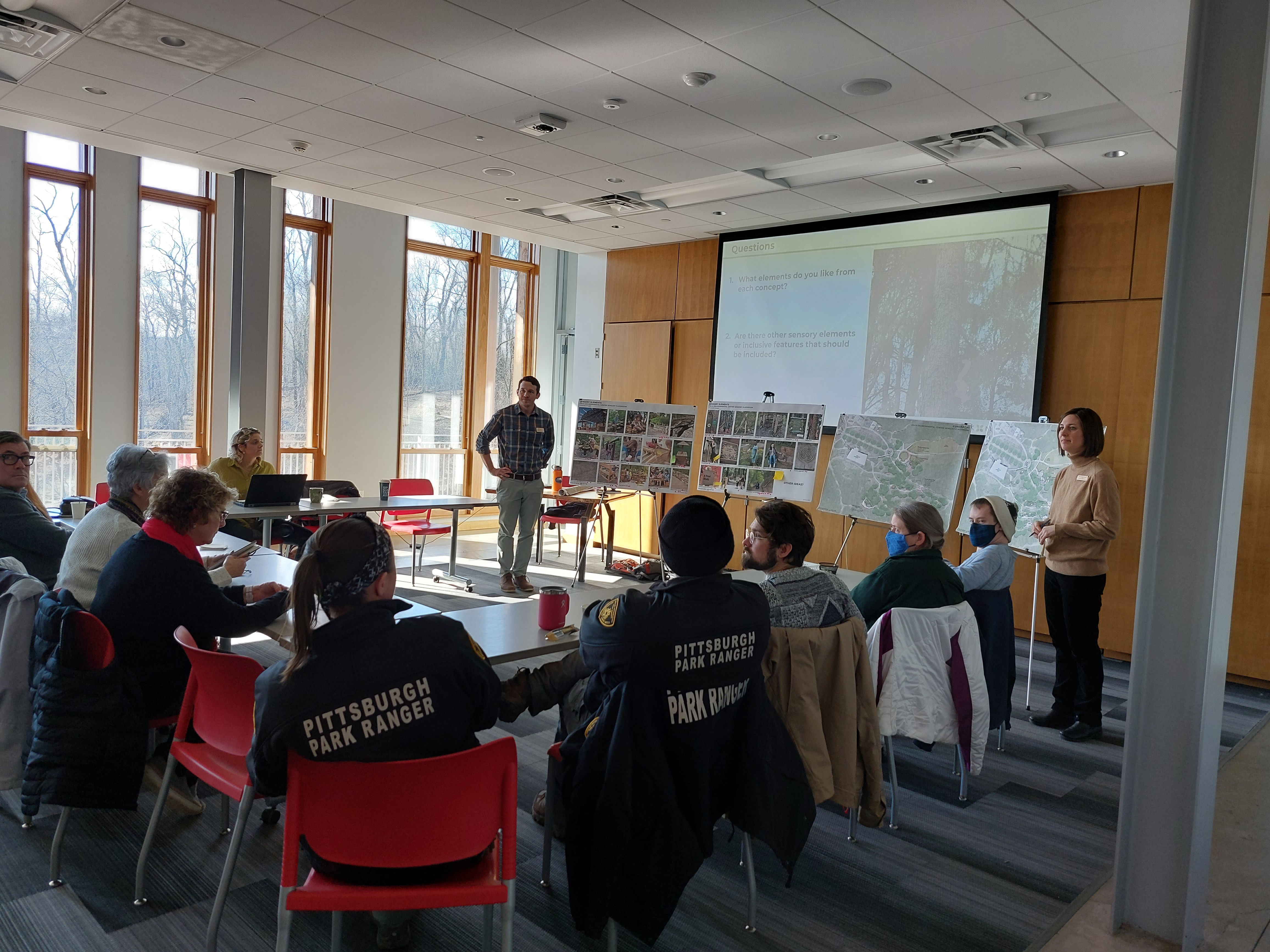 Our core beliefs  
We firmly believe that every person, regardless of their physical or cognitive abilities, should have the opportunity to experience the transformative power of nature. This initiative embodies our dedication to creating an inclusive and welcoming environment for all park users. By removing barriers and embracing different sensory experiences, we aim to cultivate a deep sense of belonging and connection to the natural world. 
The Outdoor Sensory Classroom will incorporate various interactive elements that cater to diverse needs, leaving no stone unturned in ensuring that every individual can fully engage with nature. Through this project, we hope to ignite a genuine passion for the outdoors and instill a lifelong love for environmental stewardship among all park visitors. 
We want you to join us as we celebrate National Disability Independence Day and our relentless pursuit of inclusivity in Pittsburgh's parks. Together, let's break down barriers and create a world where all abilities can thrive. Get ready to explore, experience, and embrace nature like never before at the Frick Environmental Center's Outdoor Sensory Classroom. We can't wait to see you there! 
The project is tentatively scheduled to open to the public in Fall 2024. Stay tuned for more project updates in the coming months.