Bricks and Butterflies: Unique Gifts with a Meaningful Mission 
Stuck on what to get your loved ones this holiday season? Look no further because the Pittsburgh Parks has the perfect gift for you! 
This year, you, or a loved one can become part of Frick Environmental Center or Schenley Plaza forever!  
Make your permanent mark on Frick Park with a crystal-sealed butterfly art piece at Frick Environmental Center in your name, or in honor of a loved one. You even get to choose from one of give native butterflies and a personal engraving! Giving this gift is as simple as following the link below and filling in your information.  

Another gift-giving opportunity that will deem you the "Best Gift Giver" in the family, are the Schenley Plaza bricks. With this meaningful and lasting gift, we will dedicate a Schenley Plaza brick in your name, or in honor of a loved one. Schenley Plaza bricks are personalized for each individual with an engraving of up to three lines.  Click the link below to join the legacy!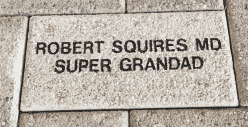 Both gifts are an opportunity to carve your name, or a loved one's name into the Pittsburgh Parks legacy. Don't miss these unique opportunities to support your beloved parks, while simultaneously purchasing a gift for a loved one that will never be forgotten.  
Butterfly Donation: https://pittsburghparks.org/dedicate-a-frick-environmental-center-butterfly/ 
Brick Donation: https://pittsburghparks.org/dedicate-a-schenley-plaza-brick/