25 Years of Love in the Parks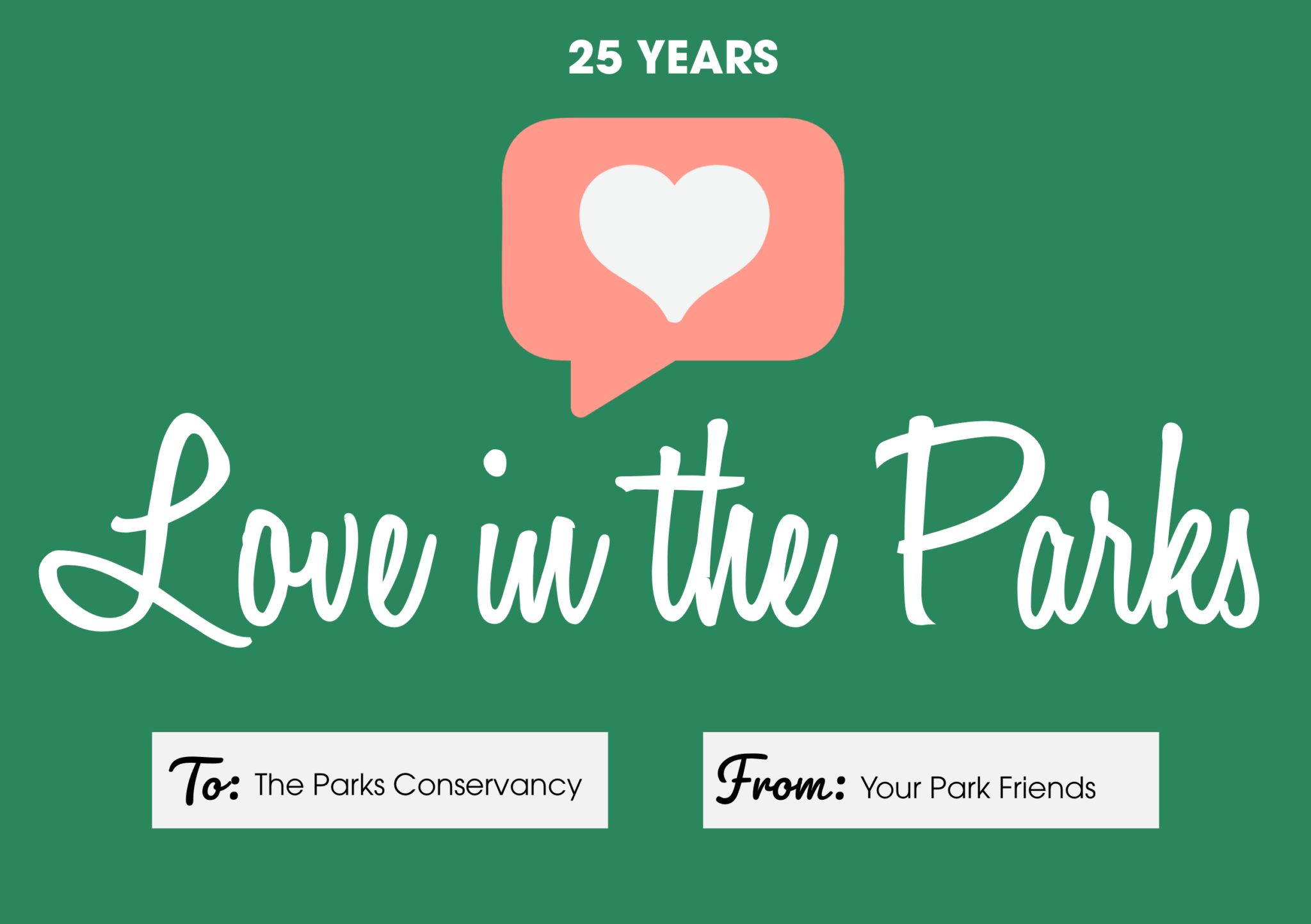 "Though February is short, it is filled with lots of love and sweet surprises" ― Charmaine J. Forde
February is a month that celebrates warmth, joy, and everlasting love. And as we celebrate this month of love, we're also celebrating 25 years of the Parks Conservancy, and 25 years of incredible love stories that have taken place in your parks.
From Michelle and Jansen's intimate wedding ceremony in Schenley Park to Quintin and Jeff's long-distance romance that blossomed into something stronger than they ever could have imagined, learn more about several couples who chose Pittsburgh's parks to celebrate some of life's greatest moments.
---
MICHELLE ZUBASIC AND JANSEN JONES, SCHENLEY PARK
"My husband, Jansen, and I live in Shadyside and love visiting Mellon Park and Schenley Park. We had our engagement pictures taken at Mellon and got married at Schenley! We live fairly close to both parks - it's so nice to walk around the parks and enjoy the beautiful scenery," Michelle explained.
"Jansen and I first met in college, while attending Gannon University in Erie. During college, I worked at the front desk of our university. Students and visitors always saw me as they came and went, and Jansen claims he would see me there all the time but would chicken out on talking to me," Michelle said.
"We had different majors entirely, but there were certain courses at Gannon that were required, and one semester we ended up in the same required class. I would always catch him staring at me in class and I guess the rest is history!"
Michelle and Jansen have a special love that could be defined as easy and natural.
"Spending time with each other was just so effortless, even now! I love that we can spend hours talking but we also can spend hours just sitting together finding comfort in the silence. We have known each other for about eight years now and are truly best friends," Michelle explained.
After several years together, Michelle and Jansen were preparing to say 'I do,' but in true 2020 fashion COVID-19 threw their wedding plans through a loop.
"We were planning to get married at Succop Nature Park in August 2020, but out of an abundance of caution, and for the safety of our guests, we decided to postpone the wedding," Michelle said. "However, the more we thought about it, the more we thought 'the heck with the pandemic!' and decided to have a very small and intimate ceremony in Schenley Park."
Their wedding day was picture perfect and one they will forever hold close to their hearts.
"My closest friends set up an arch with some flowers and my mom walked me down the aisle. It was beautiful," Michelle said. "I knew I wanted to get married outside and be surrounded by nature but I wasn't quite sure where. Jansen isn't picky at all and said it could totally be up to me. So, one day my very best friend and I drove around various parks to find the perfect place," Michelle said. 
"We tried Mellon, Schenley, Frick, you name it! We finally settled on Schenley. Its beauty is unmatched."
Michelle and Jansen were married on August 28, 2020. 
"I love being Mrs. Jones! It feels so surreal when people call me that! It gives me butterflies all over again."
---
QUINTIN PEACOCK AND JEFF MILLER, FRICK PARK
Quintin Peacock and Jeff Miller have long found a deep connection to nature. They both grew up in a place where nature surrounded them and developed strong bonds to the outdoors. And just as their love for nature strengthens, so does their love for each other.
"Our love story is pretty unique," Quintin began. "Jeff and I both grew up in neighboring towns in the Finger Lakes region of New York, but we actually met online."
From their very first date, everything seemed so natural to Quintin and Jeff.
"The chemistry, balance, and love we fostered just blossomed," Quintin said. "And after four months of dating, a job opportunity brought me to Pittsburgh. We both knew that love was stronger than distance."
Six months later, Jeff moved to Pittsburgh.
"It was a crazy leap of faith, but we have been together for more than three years now," Quintin said. "Also, love is love is love, and we always remember to keep those who we hold dear to our hearts near, especially in these tumultuous times. And Jeff and I are growing to love each other more every day."
Quintin and Jeff frequently visit their favorite park, Frick, with their beloved dog, Harper. Like so many others, spending time in the parks means the world to them.
"The parks in the city of Pittsburgh present so much meaning because they allow us to be in the city we love while being outside. Also, Harper loves making new friends at the dog park," Quintin said.
---
EMILY AND CHRIS BROWER, RIVERVIEW PARK
Emily and Chris Brower were married in Riverview Park in 2019. They met in the winter of 2011 through a mutual friend and hit it off right away. A few months of friendship later led to everlasting love.
"Our time together has just always felt natural. Chris is incredibly smart and caring and always does his best to make me happy. We have a lot of values, opinions, and interests in common, but we are also very different. Our relationship has continued to change and grow over the years, but the presence of love and teamwork has always been consistent," Emily explained.
Emily and Chris are no strangers to Pittsburgh's parks! They reside in Squirrel Hill and enjoy spending time together by exploring the trails of Frick Park. 
"I've lived in Squirrel Hill for seven years, so I've spent a lot of time in Frick and love the trails," Emily said.
Although Frick is one of Emily's favorite parks to visit, Riverview Park stole her heart after saying 'I do' to Chris in one of Pittsburgh's most beloved spaces.
"Since getting married at Riverview Park in 2019 though, I have some of my best and happiest memories there and love to go back and visit," Emily shared.
Selecting a venue to begin your forever is one of the most important decisions a couple will make during their relationship. And is something Emily and Chris did not take lightly.
"We didn't know exactly what we wanted for our wedding venue when we first started our search but knew we wanted something affordable and that felt like 'us.' We love the outdoors and spending time together in the parks, so I decided to start researching park facilities," Emily said.
"Once we viewed the Riverview Park Chapel Shelter, we knew that it would be a wonderful location for our wedding! We had a small ceremony at the Chapel Shelter with our family and closest friends and then had a much larger reception at the Activities Building immediately following. Our family and friends helped us to decorate both buildings beautifully and our wedding day was better than we could have ever even imagined."
---
EMMA AND JAMES DAMERON, MELLON PARK
Emma and James Dameron said 'I do' on a beautiful, hot, and sunny day at the beloved Mellon Park Walled Garden on September 23, 2017.
Although they are currently considered 'Angelenos' as they now reside in Los Angeles, they remain Pittsburghers at heart, where their love story first began.
"My husband and I currently live in Los Angeles but we both call Pittsburgh home," Emma explained. "James and I both went to Pitt, but he was a few years older, so we didn't meet there. My cousin, Jordan, had said for years that she wanted to set me up with her boyfriend's best friend. And while we happened to be in a lot of the same places at the same time, parties, Pitt football tailgates, etc., it wasn't until 2012 when Jordan and her boyfriend, Brandon, not very subtly, set us up for a double date for some 'big azz' margaritas at Mad Mex, that we finally connected. Now Jordan and Brandon are married as well, and the four of us are best friends."
As their relationship evolved, their love grew, and James later proposed in the comfort of their previous home in the Friendship neighborhood.
"James originally had an idea to propose to me in Highland Park, but in true Pittsburgh fashion, the weather led to a change in plans," Emma explained. "We loved walking the trails of Highland Park with our dog, Jax, and James was even planning to propose on the little bridge in the trees behind the reservoir, but it was raining. So, he proposed at our home after recreating a fun date we had on the Northside listening to music at James Street Gastropub and Speakeasy (which we miss dearly!)," Emma said.
When the time came to plan their special day, Emma knew where she wanted to begin their forever.
"I said from the beginning that I saw our wedding in a garden with a lot of greenery but in the city since we are both very much Pittsburgh city lovers. So when we saw The Walled Garden in Mellon Park, we knew it was perfect," Emma explained.
"While we don't live in Pittsburgh right now, we definitely miss our weekly walks in the parks, especially on those crisp fall mornings with the pup. Parks in L.A. just don't hit the same!"
---
EMILY SOFAYOV AND REECE BERGSTROM
Emily Sofayov is a lifelong Pittsburgher she currently calls Columbus, Ohio 'home,' with her fiance, Reece.
"I'm originally from Mt. Lebanon and Reece is from North Allegheny. Once Reece finishes his fellowship, we plan on moving back home to Pittsburgh!"
Although Emilly and Reece have both called Pittsburgh home since they were children, it wasn't until they were both attending Temple University in Philadelphia that they met.
"We both lived in the region, but never met until college! However, our first date was during winter break at Sphinx Cafe in Pittsburgh, and the rest was history," Emily explained.
Parks have always held a special place in Emily's heart.
"Growing up, my favorite park was Bird Park in Mt. Lebanon. Although it's not large, it holds a lot of memories from when I was in school," Emily said.
When selecting a place to take their engagement photos, the only location that made sense to Emily was the park, and more specifically, Allegheny Commons Park.
"Besides the park's natural beauty, I think it's the history of the area," Emily explained. "Since we are from Pittsburgh and are getting married in Pittsburgh, we wanted our engagement pictures to convey our roots to the wonderful city. We could have done the pictures Downtown and easily have achieved our goal. However, it isn't Downtown that makes Pittsburgh. It's the parks like Allegheny Commons and the neighborhoods surrounding these parks that give Pittsburgh its unique charm and history."
---
PAV GEE AND LIANA MANEESE
Pav Gee and Liana Maneese began their forever on August 1, 2020, in an intimate ceremony in Mellon Park. However, their love story started long before that beautiful day.
"Liana, my wife, grew up in Wilkinsburg. We met at the legendary Shadow Lounge when I was in college at Pitt," Pav explained. "Our love is based on a mutual understanding that we both want to grow; whether that's mentally, spiritually, or culturally. Our closest friends and family members share these same values, which we think is one of the most important qualities to have, especially during the craziness of 2020."
Although 2020 was a challenging year for many, Pav and Liana embraced Pittsburgh's outdoor spaces as they prepared for their wedding.
"We've taken advantage of the recalibration and the change of pace this pandemic has provided. I think in a lot of ways, the parks in Pittsburgh help foster that sense of reprieve for a lot of folks around the city," Pav said.
Not only was August 1 the day that Pav and Liana promised each other forever, but it's also Liana's late mother's birthday.
"Liana's late mother, Kathleen Maneese, was a very special woman. She was a feminist before it was trendy and socially educated before it was shameful not to be. In a lot of ways, she represents the values that we carry on today, in a time when they're more crucial than ever to practice and maintain." Pav explained. "Liana's late mother also has a tree planted in her honor in Frick Park."
It's easy to see that Pav and Liana have a beautiful, heartwarming, and endearing love story, and one that grows stronger every day.
"I think it's important to remind folks that every relationship is hard work and just because you have a picture-perfect wedding, it's the collective resilience that is the most important," Pav explained. "I think that's why I love the mask (wedding) photo we took because it represents that there's always the possibility to create something beautiful no matter the circumstances."
---
DREW SHANK AND HALEY OSTENDORF
Observatory Hill residents, Drew Shank and Haley Ostendorf, have long considered Riverview Park their charming escape from the city life. On September 29, 2020, Drew and Haley said 'I do' in an intimate ceremony in their favorite park.
"We chose to get married in Riverview because it has been our little escape from city life and a way to immerse ourselves in nature, which we both value, especially this past year," Drew explained. "We love the way the park makes us feel. It's as though we're out of the city, plus we both enjoy looking at the wildlife."
Drew and Haley's story first began by connecting via a dating app, which quickly led to love.
"I met Haley through a dating app and fell in love with her almost right away," Drew said. "She makes me laugh more than anyone else ever has and is the easiest person in the world to be myself around. She is so non-judgmental and is always down to be silly or weird when the mood calls for it."
"Also, Haley's a hairstylist and owns a hair salon. She would tell you she fell for me when she cut my hair for the first time. That's when she realized I could be more than just a funny guy with a bad haircut," Drew explained.
In late September, Drew and Haley promised each other forever.
"We were married in a self-uniting ceremony at one of the pavilions in Riverview Park with only our best friends present. It truly was everything we wanted." 
---
KARISA AND RYAN HRECZKOSIEJ
Parks are where we create a lifetime of memories and highlight some of life's greatest joys. And for Karisa and Ryan Hreczkosiej, their first trip to Flagstaff Hill in Schenley Park is where they celebrated their bundle of joy with pregnancy photos to share with their family and friends.
"There are many parks in Pittsburgh that bring us so much joy, relaxation, and contentment in our lives. That was our first time ever being on top of that hill in Schenley Park. But, there's a first time for everything, and that's ultimately how we create new and vibrant memories that last a lifetime," Karisa explained.
"We're so grateful for our friend (and very talented photographer) Taylor Simon who recommended this location to us," Karisa said. "When we arrived in Schenley Park and saw all of the people reading on blankets, hammocking in trees, enjoying snacks with friends, and that sunset view - it was like a little slice of paradise."
And that very special moment allowed Karisa and Ryan to envision their future with their child.
"The thought entered my mind that one day our child would be up here studying for an exam or catching a football or just enjoying the outdoors. It's a beautiful picture of the circle of life," Karisa said.
As Karisa and Ryan prepare to welcome their first child, they're also reflecting on their relationship and how they continue falling in love over and over again.
"Friendship is always the pre-requisite to falling in love," Karisa said. "We quickly discovered that we could be best friends with each other. Laughing was easy. Being kind to one another came natural. And we complimented each other's strengths and weaknesses really well. Now, of course, we have our fair share of problems. But I think the grace you show each other in the hard times - that forgiveness that melts your heart - that's what ultimately grows a deeper love between two people. It makes you cherish that person more. It makes you love them stronger. I think that's the core reason for how we've been falling in love with each other over and over again."
Karisa and Ryan also shared a piece of advice and one of their favorite sayings.
"Be that type of friend to people, most importantly to your significant other, so the world can see what true love really is," Karisa said. "Below is a quote from C.S. Lewis that truly encompasses our relationship."
"The typical expression of opening Friendship would be something like, 'What? You too? I thought I was the only one.'
... It is when two such persons discover one another, when, whether with immense difficulties and semi-articulate fumblings or with what would seem to us amazing and elliptical speed, they share their vision - it is then that Friendship is born. And instantly they stand together in an immense solitude."